WOMEN IN THE VINE – HOLIDAY CRAFT AND VENDOR FAIR
Saturday, Nov. 13, 2021
9:00 am – 2:00 pm
Friday, Nov. 12th – Early Set up – 6:30 pm – 8:00 pm
Saturday, Nov. 13th – Set Up – 7:00 am – 8:30 am
Tear Down – Begin at 2:00 pm
NOTE: Various food items will be available for purchase on Saturday.
Registration fee is $30.00 per booth. Holiday Craft and Vendor Fair Registration 2021
Holiday Craft and Vendor Fair Registration 2021
● Booth size will include 6ft for your table with 2 ft on each side.
● We will provide you with (1) 6 ft table, (1) table cloth and (2) chairs per space.
● Please feel free to bring a cash table (ie side table, tv tray).
● Inside & outside space with electricity is limited. Electrical access will be granted for those needing to display their product only.
Please bring your own extension cord.
● You will be assigned a location and not permitted to change without approval.
● If you choose an outside booth, you will have the option of bringing a tent (maximum size 10 ft x 10 ft). Note that we may not be able to accommodate
you inside should we have inclement weather.
● Tear down will begin at 2:00 PM to allow for minimal disruption.
PRODUCT
● Vendors are responsible to report & pay any sales tax collected on the sale of your products.
● In consideration of our commercial vendors, we will allow only one vendor per product line – example Mary Kay, Pampered Chef, Tupperware, etc.
REGISTRATION
● Application should be received by us no later than Monday, August 30th.
● Submit your payment (Check, Zelle, Apple Pay, Venmo) along with your registration form..
● No Refunds for cancellation.
Hanover Evangelical Friends Church assumes no liability or responsibility for vendors or their property. Security will not be provided but committee members will be on premise.
All proceeds will be distributed at the discretion of the Women in the Vine committee to benefit
the ministries within our church.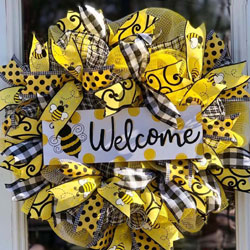 Are you a crafty person? If so, please join us on Saturday, April 17th at church from 10:30-12:30 to make a spring wreath!
Laura Williams will be the teacher with Elizabeth Shelton as her assistant.  Laura was one of our vendors at the 2020 Fall Vendor Fair at HEFC and she had some beautiful wreaths for sale. You can check out her beautiful creations at her Facebook site titled Springhill Wreath Designs.
We will all make the same design which will be the bee wreath seen on this page. The class size is limited to 8 participants. There is a sign up sheet on the church bulletin board.The cost will be $45 which includes the class and all the supplies. All you need to bring is yourself and a pair of scissors.
Deadline to sign up will be Sunday, April 4th. Payment in full is due with registration. Checks should be made out to Elizabeth Shelton.
If you have any questions please contact Elizabeth Shelton.